As you may know, last week Halloween and the "Castañada" were celebrated.
In the afternoon, some competitions were hosted; the best individual and group costumes, and the best class decoration.
The winners were the following:
Best class: 2nd ESO
Best individual costume: David Brase, as a black plague doctor
Best group costume: Mohamed Tatari, Lisa Iriarte, Sebastian Heredia, Carles Moreno, Sebastian Gerbasi y Marc Frigola, as the Peeky Blinders.
Evert winner wan a bag of candy.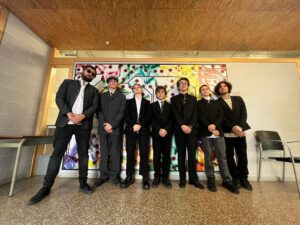 Últimes notícies
Caixaforum Exhibition

Ahir, 10 de novembre de 2022 els estudiants de segon de batxillerat van fer una visita guiada a la...

Continuar llegint

Halloween Winners

Els guanyadors i guanyadores han sigut els següents...

Continuar llegint

Skiing 2022

Els alumnes de 5è, 6è de primària i els de 1r i 2n d'ESO han tingut l'oportunitat d'anar a...

Continuar llegint
© 2022 Montjuïc Girona International School. Tots els drets reservats.
Call Now
Los ajustes de cookies de esta web están configurados para "permitir cookies" y así ofrecerte la mejor experiencia de navegación posible. Si sigues utilizando esta web sin cambiar tus ajustes de cookies o haces clic en "Aceptar" estarás dando tu consentimiento a esto.